Commercial > Atem Personal Air Purifier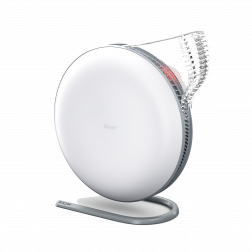 Atem® Desk
Take control of your own breathing zone with the IQAir Atem Personal Air Purifier. Atem utilizes IQAir's unique air guidance technology - PureJet Diffuser to stream the clean air into your personal breathing zone. It is a compact and incredibly powerful personal air purifier that removes fine and ultrafine particles through IQAir's proven HyperHEPA filtration technology.


1. High-efficiency personal air purifier with HyperHEPA-grade air filtration down to 0.003 microns, made in Germany by Swiss IQAir

2. Sleek, compact and portable design, easy to use at home, office, hotel room, school, etc.

3. Clean air much quicker than a room air purifier by creating a clean-air bubble directly to your personal breathing zone

4. Smart features and settings available with the free IQAir Atem app (compatible with Apple and Android smartphones), e.g. proximity on/off sensor to save energy, customizable fan speed settings, filter-life notifications, etc.
Default air delivery (incl. filter),
3 fan speeds
1: 8 2: 15 3: 30  m3/h
Weight (system incl. filter) (approx.)
(with stand incl. power supply) 2.8 kg
(w/o attachments) 2.0 kg
Power requirements
110-240 V / 50-60 Hz
Energy consumption, 3 fan speeds
<1.5, 1.9, 3.4 W
Dimensions (H x W x D)
(with stand) 31.6 x 14 x 31.6 cm
Fan motor
multiphase DC fan motor
Colour of main housing / stand
white or black with grey trim
Housing material
PC-ABS & PC plastics
Tackle airborne particulates like:

- Dust mite allergen
- Pollen
- Mould spores
- Smoke particles
- Pet dander (cat, dog, etc.)
- Fine dust and particle
- Bacteria and viruses
Atem HyperHEPA® Plus filter

- Purpose: control of coarse and fine particulate matter;
- Efficiency: ≧ 99%
Advanced controls

- 3 selectable fan speed settings
- Intelligent filter life monitor (filter replacement LED and mobile app)
- Automatic language selection displayed on mobile app based on phone system language: English, German, Chinese simplified, Chinese traditional, French, Spanish
- Supplied with PureJet diffuser, stand and power adapter with 3 regional plugs